Objective: MultiOne America is the national headquarters and distributor for MultiOne loaders, produced in Italy. Working as a marketing consultant, I developed a marketing strategy to help them reach their sales goals. By creating a digital ad plan and researching keywords & audience, creating content, and managing the ads, we significantly increased the number of website visitors, lead forms, and inquiry calls to the office.
Want to read about the multilingual landing pages I created for this campaign? Go here.
Objective- Social Media Followers
I grew the Facebook followers 10% over 6 months and took a fresh Instagram account from 0 to 900+ over the same time frame. After paid ads stopped, the accounts continued to receive new organic followers with the help of a great content plan.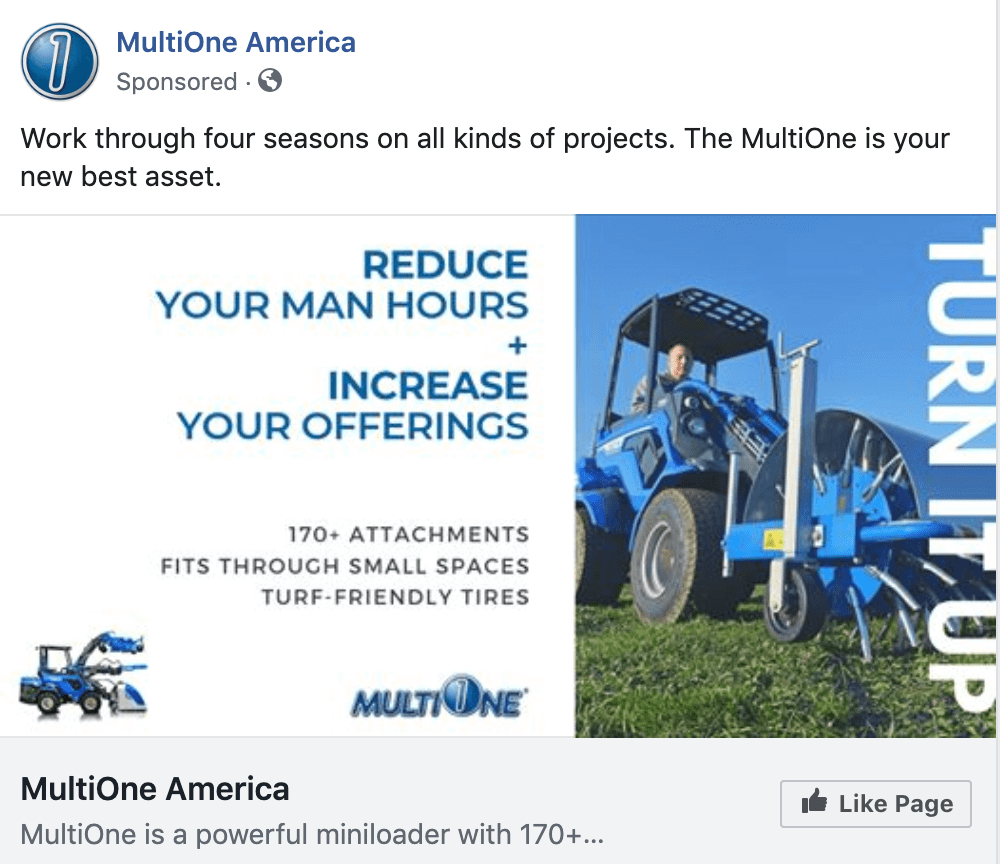 Objective- Website Traffic with Google Search Ads
Hubspot states that 1.91% is the average click-through-rate for search ads. With the help of excellent ad writing, detailed targeting, additional ad extensions, and an intriguing product, our ads got twice the average with a 4.63% CTR.
Website visitors increased an astounding 100 times! We also achieved an average page/session of 4. That's a lot of content consumed by our visitors, and shows they were genuinely interested in the product.
Objective- Website Inquiries and Phone Calls with YouTube ads
Our YouTube ads significantly increased website traffic and were responsible for 77% of conversions. The bounce rate was low, which can be attributed to the audience targeting of the campaign.
The three campaigns met the client's KPIs and they were thrilled with the results. They expanded their success by having me launch the campaign in two other languages.
**All images shown are publicly available as to not infringe on the privacy of my client.
Ready to increase your awareness, website traffic, and leads? I can help you decide where to run digital ads, produce content that converts, and optimize your ads over time.